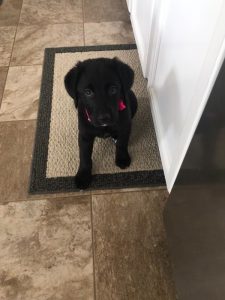 We knew that our family wanted another dog, but we weren't sure what kind exactly. My son and I decided to go to the shelter one afternoon, and as it turns out, an adoption event was taking place that day.
We walked by several adorable puppies, but then we saw Vayda! She whined when we left her cage (more than once) something we hadn't seen her do with anyone else. We knew she was the new family dog we were looking for. She couldn't be any sweeter or more playful; she fits into our family perfectly!
We just love her and highly recommend the shelter for finding your next fur baby!
Barrett now Vayda