13th ANNUAL COMPASSIONATE FEAST
and ROAST of JOHN U. BACON
Please join us! You'll meet other animal-lovers like you; enjoy music, cocktails, food and entertainment; and celebrate all you've helped HSHV do and continue to do for animals in our community.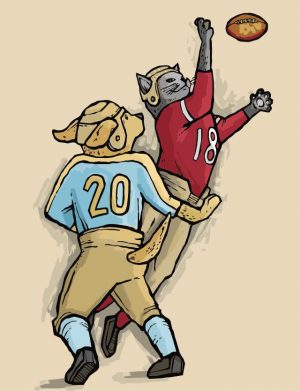 Friday, November 9, 2018
6:30~10 p.m.
6:00 – Private Reception with John U. Bacon (MVP Ticketholders only)
6:30 – Cocktail Reception & Silent Auction
8:00 – Vegetarian Feast & Roast of John U. Bacon
All but $30 of the ticket price is tax-deductible and goes to help care for the injured, abused and homeless animals in our community!
Michigan League Ballroom
911 N. University Ave.
The Feast
Vegetarian Option
First Course
Kale Salad – With dried cherries, pine nuts, lemon, extra virgin olive oil and parmesan cheese
Second Course
Sauteed Polenta Cake – With stilton cheese, roasted tomatoes, artichokes and red pepper coulis
Third Course
Cheesecake with Fresh Fruit – New York-style cheesecake topped with seasonal fruit
Vegan Option
First Course
Kale Salad – With dried cherries, pine nuts, lemon, extra virgin olive oil
Second Course
Spanish Style Vegan Paella – Roasted autumn squash medley with white beans, cipolinis & sage
Third Course
Assorted vegan dessert bars
The Roast
John U. Bacon is the New York Times bestselling author of 10 books on sports, business, health, and history. He free-lances for The Wall Street Journal, Yahoo, and others, appears often on TV, and delivers weekly essays for Michigan Radio and occasionally NPR, awarding him the PRNDI prize for nation's best commentary in 2014. He is a popular public speaker, who teaches at the University of Michigan, where the students awarded him the Golden Apple in 2009. John is also a decent Spanish speaker, an average hockey player, and a poor piano player, but he still enjoys all three! He lives in Ann Arbor with his wife and son.
The Hosts
The Roasters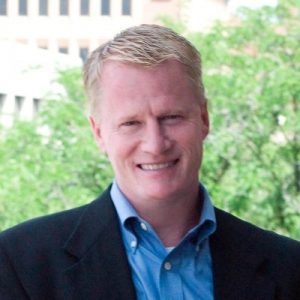 As soon as WTKA sports anchors Sam Webb and Ira Weintraub heard about the roast of their friend, John U. Bacon, they volunteered to emcee the event. They will host a cast of characters from Bacon's life, including: lifelong friends, who will present Bacon's "List of Virtues"; former hockey captains and parents from the Ann Arbor Huron hockey team, who don't have to take it any more; a longtime writing friend and mentor, who has seen the sausage get made; and even some of Bacon's heroes — all adding up to a one-time-only night of warmth and humor. You don't want to miss it!
Thank You to Our Sponsors
Sponsorship Opportunities
Become a sponsor for this fundraiser!  Your sponsorship supports the animals in our community and provides visibility for your business to loyal animal-lovers. To find out more and become a sponsor, download a printable Sponsorship Packet.
Thank You to the Planning Committee
Christie Bacon
Ken Fischer
Robin Kunkel