The Humane Youth Award recognizes inspiring youth between the ages of 12 and 17 who are making a positive impact on the lives of animals in their community.
The award is a publicly and professionally recognized honor for a young person who has both personally, and through the inspired efforts of others, raised awareness for and helped create a more peaceful life for people, animals and the environment.
The Winners
We're so very excited to announce the winners for the 1st annual Humane Youth Awards!
Winner: Claire Roffi
1st Runner Up: Emilia Callan
2nd Runner Up: Kaitlin Barrett-Huff
Thank you to all the folks who submitted nominees, and to the nominees; it was a very tough decision, and we're so pleased to hear about all the wonderful things young people are doing for animals in our community!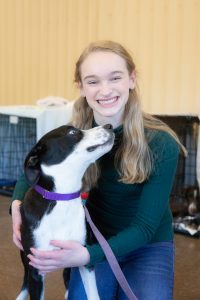 Claire Roffi, 16, has accomplished so much at her young age!  She is a Junior Volunteer at HSHV, belongs to her school's Future Health Professionals club, raises money for various animal rescues through the Crafters Helping Animals program, and volunteers for Last Day Dog Rescue.  What's more, Claire is a gracious, kind and ever humble young person.  Her longstanding and widespread dedication to animals is demonstrated in her everyday life.  We are proud to name Claire as the winner of the 2018 Humane Youth Award!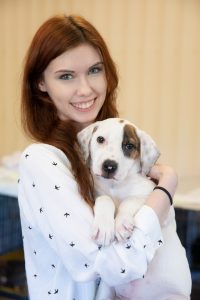 Emilia Callan, 17, is a lover of animals (especially cats)!  To help orphaned kittens, Emilia took a training course on how to care for young, bottle-fed kittens.  Once trained, she took on the full responsibility of fostering, including around-the-clock feedings and keeping the kittens warm and clean. Beyond animal welfare, Emilia also acts as a peer counselor at her school and is looking forward to a career in zoology.  Emilia was chosen as the Humane Youth Award 1st runner up because of her devotion to lending a helping hand to those who need it most.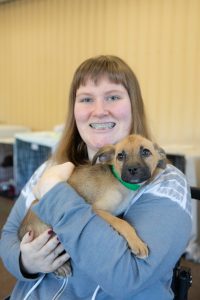 Kaitlin Barrett-Huff, 16, is a valuable member of HSHV's Junior Volunteer team.  Her cheerful and positive attitude is infectious and inspirational.  In addition to the time she dedicates to the animals at HSHV, Kaitlin also volunteers with her school's Link Crew and C.S. Mott Children's Hospital's Teen Advisory Council.  Kaitlin was chosen as the Humane Youth Award 2nd runner up because she is committed to improving the lives of others, human and non-human alike!
The Selection Process
Nominations will be accepted from August 1st, 2018 through September 28th, 2018 at 4pm. All nominations must be submitted electronically using our nomination form. All nominees will receive communication regarding their nomination status and winners will be notified by October 12th via phone call. Unfortunately, incomplete submissions or those that do not follow the guidelines will not be considered.
The following criteria are considered when reading submissions:
Whether the projects is directly helping animals within Washtenaw County, Plymouth or the City of Northville
Number of animals helped through the project
Sustainability of the project
Length (time wise) that project has been occurring
Uniqueness of project
Guidelines
All entries must be submitted electronically and received by Friday, September 28th, 2018 at 4pm. Unfortunately, late submissions cannot be considered.
The nominee and their parent/guardian must have full knowledge and approve of a candidates nomination. Parent/guardian information must be provided on the nomination form.
Nominees can only be nominated for one project, per year.
Nominees must reside in Washtenaw County, Plymouth or the City of Northville. Those on HSHV's Junior Volunteer team who live outside of these areas are welcome to apply.
Applicant must currently be between the ages of 12 and 17 by the time submissions close on September 28th, 2018.
Submissions should be from an individual, not a group or organization.
Applicants must be willing and able to attend HSHV's Compassionate Feast dinner and banquet on November 9th, 2018 with 2 guests of their choice. Award winner will be presented with the award as a part of the banquet.
Applicants must be willing to participate or have their photo, work and/or name used in recognition/marketing activities (such as press releases, on the website, etc.) and the parent/guardian must sign a marketing release form, which is provided in the application.
Work must be original.
Much of the nominees work must have taken place between August 1st, 2017 and August 31st, 2018.
Awards
One Humane Youth Award winner as well as a first and second runner-up will be selected. Awards are as follows:
Winner
Complimentary attendance to HSHV's annual Compassionate Feast banquet on November 9th, which includes 2 guests of the winner's choice
Humane Youth Award plaque, presented at the Compassionate Feast
Inclusion in marketing opportunities and press releases
HSHV animal-themed gift basket
First and Second Runners-Up
Humane Youth Award Plaque
Inclusion in Marketing opportunities and press releases
Nominations are now closed, and the winners will be posted soon.  Please stay tuned!